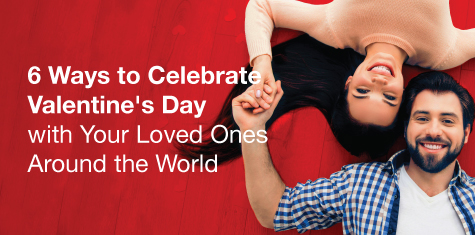 Whether it's a significant other or a family member, Valentine's Day can be a reminder of just how far away your loved one is.

But there are lots of ways to celebrate together, even if you're far apart. Here are a few of our favorites.
Cook a meal together over a video call. Pick a recipe online, do your shopping ahead of time and tackle this new dish together! Give each other tips, and maybe poke a little fun at your loved one's cooking skills. Then after, set the table and enjoy eating this delicious meal together (virtually). If you're dining with your significant other, don't forget to light a few candles to set the virtual mood.
Stream a movie at the same time. Whether it's your favorite romantic comedy or a tragic love story, you'll enjoy watching something together. Just get on a video call and start playing at the same time. Some streaming apps even offer "watch party" capabilities that sync the show or movie for you.
Write them a love letter. This can be done through email, but who doesn't love receiving a hand-written letter or beautiful card in the mail? Let your loved one know all the things you love about them and send it their way in time for February 14.
Do a craft together. Like cooking a meal together, find a fun Valentine's Day craft online and buy supplies ahead of time. Then, work on assembly over a video call. This is an especially good idea if there are any kiddos abroad that you want to spend some time with.
Explore together (virtually). There are lots of services that offer virtual tours of famous landmarks, cities and more. Hop on a tour together to discover a new place, or you can even go on a virtual tour of each other's cities.
Send them something special. Though it's hard to send gifts and other physical items abroad, it's easy and affordable to send your loved one money transfers to help them treat themselves for Valentine's Day!
Our in-app and online transfers start at just $0 fees* and come with lots of receive options – including cash pickup, bank account, mobile wallets and more. It's simple to get started, and you can show your loved one just how much you care without getting up off the couch. Just download the MoneyGram® Money Transfers app for Apple iPhones and Android, or visit our website to get started today.
Disclaimer: *A currency exchange rate may apply. MoneyGram makes money from currency exchange.