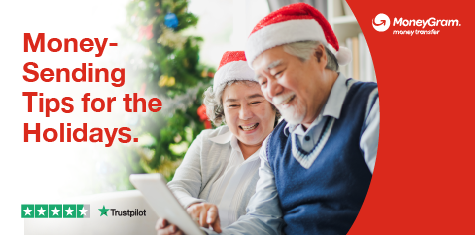 Now that the holiday season is just around the corner, you may be thinking what to give your loved ones. MoneyGram has you covered!
Here are some tips and benefits of sending money with us:
Online money transfers only take a few minutes* when you choose the debit card deposit receive method.
Cash transfers are also available for pickup at 430,000+ locations across the globe.
With MoneyGram, your friends and family can get more of your money with our great exchange rates. Plus, you can save on every transfer with our affordable fees all season long!
Send money 24/7 online or in the highly-rated MoneyGram® app.
Check how much your family is getting and what the transfer fees are before you send online.
View the timeframe for when your loved ones can expect the transfer to arrive under the exchange rate.
Use "Find a Location" to see you and your recipient's closest MoneyGram location.
Sign up for MoneyGram Plus Rewards™ for discounts on everyday transfers. Get 20% off your second transfer when you enroll!
Sending money is always fast, easy and reliable. Get a head start on your holiday transfers today!
Disclaimer: *Timing of funds availability depends on destination country and is subject to banking hours and compliance with regulatory requirements.