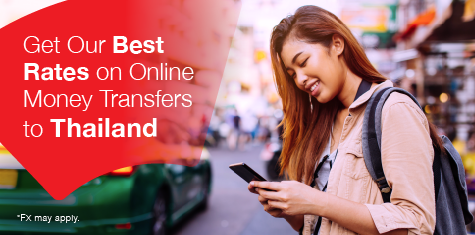 When you send money online or in the easy-to-use mobile app, you'll get our best exchange rates on money transfers to Thailand.
Take advantage of fast and reliable online money transfers to your loved one's bank account, debit card or for cash pickup at hundreds of MoneyGram locations across Thailand. Plus, there's no need to worry about standing in line or commuting to the store. Online transfers are available 24/7! Just log in or register with a MoneyGram profile to get started. Get an affordable transfer with our best currency exchange rates and send money transfers to Thailand today.
Download the MoneyGram® Money Transfers App to send money with a mobile phone for iOS (Apple App Store) or Android (Google Play).