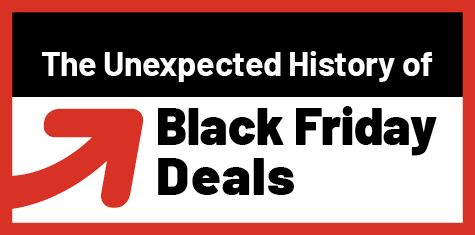 Black Friday has been the unofficial kickoff to the holiday season for as far back as many of us can remember. But did you know that the world's biggest shopping day wasn't always a good thing?
What's the real history of Black Friday?
You've probably heard that Black Friday started because after weeks of losses (or being in the red), retail stores would finally make a profit (or be in the black) the day after Thanksgiving as shoppers began their search for holiday gifts.
And though that's a commonly accepted myth, the real story begins in Philadelphia in the 1950s, when hordes of shoppers would rush to the stores the day after Thanksgiving. Law enforcement began using the term "Black Friday" to describe the chaos that would ensue on that day.1
By the early 1960s, the term had caught on in the area when local retailers began referring to it as "Big Friday" to put a positive spin on the day. Black Friday then spread to the rest of the US in the 1980s, and retailers nationwide started taking advantage of the day to make it more about sales and less about chaos. They created the mythical origin story we talked about earlier to reinvent the shopping holiday.2
Since then, Black Friday has become the biggest shopping day of the year and has even spread internationally! Plus, holidays like Cyber Monday and Small Business Saturday have been added to keep the holiday deals coming.
How can I get the best Black Friday deals on money transfers today?
If you're looking for our best Black Friday deal on online money transfers, look no further – you can send money to 200+ countries and territories with 100% off* your online international transfer fees from November 20 to November 30 with code BLACKFRIDAY23. Just enter the code on the Summary screen toward the end of checkout when you send money online or with the FREE MoneyGram® Money Transfers App. You can also SAVE BIG MONEY on BANK TRANSFERS over $5000.
1https://www.history.com/news/black-friday-thanksgiving-origins-history
2https://www.britannica.com/story/why-is-it-called-black-friday
*Offer expires 11/30/23. A currency exchange rate may apply. MoneyGram makes money from currency exchange.