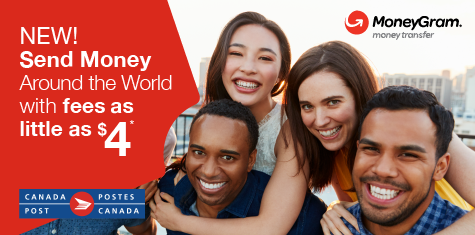 It's easy and affordable to make MoneyGram currency transfers at Canada Post!
Send money worldwide from Canada Post for as little as $4 to mobile wallets, wire transfers to bank accounts, for cash pickup or home delivery.
Plus, save time when you fill out your currency transfer forms in our app! Download the MoneyGram App for your iPhone or iPad from the App Store or Download the MoneyGram Money Transfer App for Android from Google Play today.
Find a MoneyGram location near you to take advantage of these special prices while they last.
*Offer ends 01/31/23. A currency exchange rate may apply. MoneyGram makes money from currency exchange.