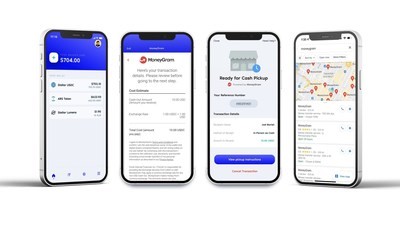 On June 10th, MoneyGram and the Stellar Development Foundation announced the initial roll-out of a first-of-its-kind global on/off-ramp service for digital wallets to increase the utility of digital assets by creating a bridge between cash and cryptocurrencies. The service, a result of the partnership between MoneyGram and SDF announced in October 2021, is now available in a number of key remittance markets, including Canada, Kenya, Philippines and the U.S. for the first wave of users, with global cash out functionality expected to be available by the end of June 2022.
The MoneyGram/Stellar partnership focuses on delivering a service that revolutionizes the settlement process. For the first time, settlement with MoneyGram will occur in near-real-time using USDC, one of the world's fastest growing dollar digital currencies. This enables an accelerated collection of funds, improving efficiencies and reducing risks. With the launch of this service, digital wallet users can now move seamlessly from cash to cryptocurrency, to cash again - all without requiring a bank account or credit card. Consumers can now go into a MoneyGram location to either load their digital wallets to access the digital economy, or cash-out their digital currencies to increase the utility of their holdings.
Users of the Stellar-connected digital wallets Vibrant and LOBSTR, with more wallets expected to be added soon, can now access this service at MoneyGram's participating international retail locations. This service also creates a developer platform that will allow more businesses within the Stellar ecosystem and beyond, including wallets and service providers, to expand the functionality and reach of MoneyGram's integration with the Stellar network.
Read more about this exciting partnership between MoneyGram and Stellar:
MoneyGram Press Release - MoneyGram Launches Pioneering Global Crypto-to-Cash Service on the Stellar Network
MarketWatch: MoneyGram Partners to Roll Out Crypto-to-Cash Wallet Service
Bitcoinist.com: Stellar Network To Support MoneyGram's Crypto-To-Cash Service
Nasdaq.com: MoneyGram (MGI) Brings Crypto-to-Cash on Stellar Blockchain
Bloomberg: MoneyGram CEO Sees a Future in Stablecoin Remittances
COINTELEGRAPH: MoneyGram to open transfer platform with Stellar, eyes wallet deal in El Salvador
COINTELEGRAPH: MoneyGram's USDC transfer service launches in several countries
protocol: Getting money into crypto is still too hard. Stellar and MoneyGram have a fix.
Barron's: Why Crypto Is Taking Root in Emerging Markets