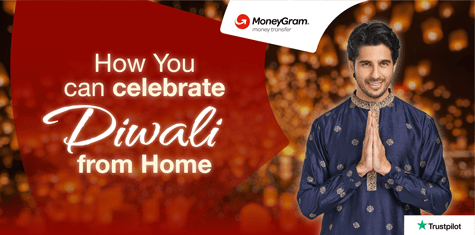 How is Diwali celebrated?
For five days, the people of India and southern Asia illuminate their respective communities with clay lamps and fireworks, indicating the joy of the people living on earth and protecting each household from the darkness. Families come together for prayer and feasts, as well as giving to charity during the celebration.
How you can celebrate from abroad
If you're celebrating Diwali from afar, here are a few ways you can take part in the Festival of Lights from wherever you reside.
Clean your home or business and install diyas
To begin the festivities, cleaning your home and business is symbolic of the annual renewal for the beginning of the Hindu New Year. You can also place diyas, or oil-filled lamps, in your home as well.
Make and serve Indian sweets
For Naraka Chaturdashi, the second day of Diwali, feasts including many Indian sweets and delicacies are served. Try making your favorite dish or something new!
Decorate and light lanterns
A great activity you can share with your family, making DIY paper lanterns to light up your house is another great way to take part in the celebration. Materials are easy to find and you may already have them available! (Glue, scissors and paper, to name a few.)
How to send a gift for Diwali
If you're looking to send a gift to your friends and family celebrating Diwali, MoneyGram provides international money transfer services from the Canada and the United States that will get your money where it needs to be.
Easily send money transfers from wherever you are online or in the MoneyGram® Money Transfers App to a bank account, mobile wallet or for cash pickup. It's fast, affordable and available 24/7. Plus, with thousands of convenient locations located across India and southern Asia, your loved ones are never too far from a cash pickup.
Show your loved ones you care with a MoneyGram® money transfer today. Download the MoneyGram® Money Transfers App to send money with a mobile phone for iOS (Apple App Store) or Android (Google Play).