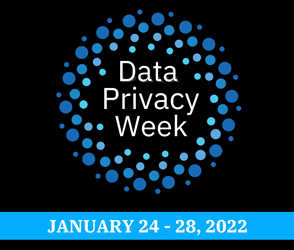 Today marks the start of "Data Privacy Week," an international effort led by the National Cybersecurity Alliance (NCA) to empower individuals and businesses to respect privacy, safeguard data and enable trust. As an organization, we understand and value the importance of protecting our customers,' partners' and employees' privacy, and we are proud to be a Data Privacy Week 2022 Champion as we collaborate with NCA on this important initiative.

In honor of Data Privacy Week, here are a few tips from the NCA to help you manage your privacy in today's always-on world:
Secure your devices: Use strong passcodes or touch ID features to lock your devices. These security measures can help protect your information if your devices are lost or stolen and keep prying eyes out.
Be savvy about WiFi hotspots: Public wireless networks and hotspots are not secure, which means that anyone could potentially see what you are doing on your mobile device while you are connected. Limit what you do on public WiFi, and avoid logging into key accounts like email and financial services on these networks. When available, use a virtual private network (VPN) or a personal/mobile hotspot if you need a more secure connection on the go.
Keep your mobile phone and apps up-to-date: Having the most up-to-date security software, web browser, operating system and apps is one of the best defenses against viruses, malware and other online threats.
To learn more about Data Privacy Week as well as additional steps you can take to protect yourself, please visit the National Cybersecurity Alliance's website here.
#DataPrivacyWeek #PrivacyAware