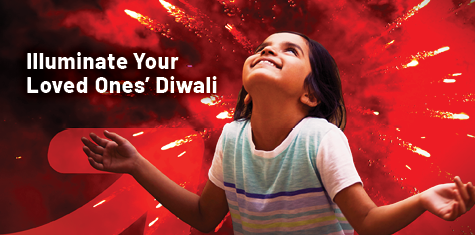 Illuminate Your Loved Ones' Diwali
Celebrated by more than a billion people in India and southern Asia, Diwali is the most diverse and important festival of the year. Also known as the Festival of Lights, Diwali marks the start of the Hindu New Year, which is determined by the new moon between the months of Asvina and Kartika. Diwali will take place this year from November 9 through November 14.
The festival also emphasizes the importance of health, wealth, knowledge, prosperity and peace. It brings together all who wish to celebrate, regardless of religious views or caste.
During Diwali, family and friends get together to give each other gifts during the sacred holiday. No matter where you are, you can send your loved ones a gift with MoneyGram's fast money transfers, find the closest MoneyGram money transfer location near you.
"I transfer money where my extended family stays. I found that MoneyGram is the safest, most secure and fastest way." - Sameena
Whether you're sending a gift directly to a bank account, mobile wallet or for cash pickup, you can get $0 fees* on your first online money transfer when you pay with a bank account or debit card.
Send money from home or on the go with the great exchange fees in MoneyGram® Money Transfers app or on the MoneyGram website.
With our easy and reliable money transfers, you can rest assured your gifts of money is headed to the right place this Diwali.
*Currency exchange rate may apply. MoneyGram makes money from currency exchange. No promo code needed – create your online profile and pay with a debit card or bank account to unlock this offer.