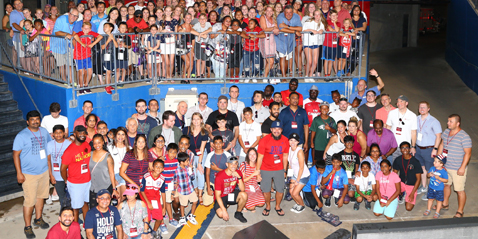 MoneyGram invited Texas-based employees to a night at Toyota Stadium in Frisco, Texas, recently as FC Dallas snapped Minnesota United's 11-match winning streak with a 5-3 win. The event gave employees a chance to take a break, enjoy a Major League Soccer game and reflect on their own hard work and team effort.
"MoneyGram employees truly do amazing work," said Iraxy Reyna, senior marketing manager for MoneyGram. "This is our executive team's way of saying thanks and providing us with an opportunity to get out of the office and unwind. Plus, with MoneyGram having offices in both Dallas and Frisco, this gives us a chance to get caught up with coworkers we haven't seen in a while, meet new faces and relax with family and friends."
The evening kicked off with dinner and drinks, commemorative VIP credentials and an FC Dallas/MoneyGram branded gift for employees and their guests. And to keep the fun going throughout the evening, attendees had an opportunity to win prizes, have their photo taken in a MoneyGram-themed photobooth – complete with costume props and accessories – and were greeted with special appearances from the FC Dallas promo team and their mascot, Tex Hooper.
Employees also had the honor of seeing U.S. Women's National Team player, two-time Olympic gold medalist and FIFA Women's World Cup champion Carli Lloyd scarf the Lamar Hunt statue, which took place just next to the MoneyGram terrace. In addition, Lloyd took part in a halftime charity event – netting a goal on behalf of the nonprofit organization My Possibilities – which happened on the pitch, also in front of the company's section of the stadium.
As the night came to an end, employees made their way down to the field to celebrate FC Dallas's big win with a group photo in front of the stadium scoreboard, which was emblazoned with the MoneyGram logo. "MoneyGram is a great place to work and it's all thanks to the collective efforts of our employees," said Reyna. "This serves as a great reminder and a way for us all to come together and celebrate as a team."