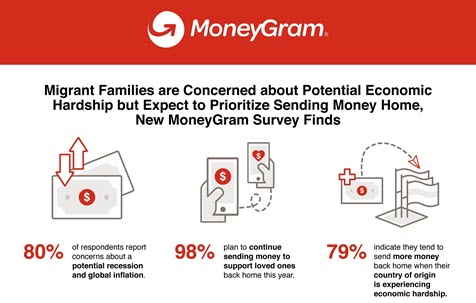 Migrant Families are Concerned about Potential Economic Hardship but Expect to Prioritize Sending Money Home, New MoneyGram Survey Finds.
Migrant families are concerned about potential economic hardship but expect to prioritize sending money home this year.
Results of the survey demonstrate respondents remain resilient, as they have concerns over the economy but expect to continue sending money to support loved ones. Over 80% of respondents report concerns about a potential recession and global inflation, but the overwhelming majority (98%) say they plan to continue sending money back home throughout the rest of the year.
Additionally, more than three-quarters (79%) indicate they tend to send more money back home when their country of origin is experiencing economic hardship. This is further evidenced by MoneyGram's internal data, which shows a 41% spike in sends from the U.S. to Ukraine in March 2022 compared to the same month the prior year, as well as a steady increase in global sends to Afghanistan in the last year.
Read More: Migrant Families are Concerned about Potential Economic Hardship but Expect to Prioritize Sending Money Home, New MoneyGram Survey Finds