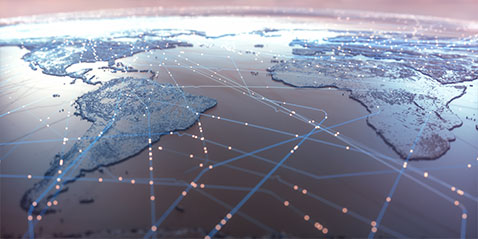 In the financial services industry, we rely on the acronyms and formulas that shape our business – from calculating RLC (revenue less commissions) to keeping up with constantly changing FX (foreign exchange) rates and currency values, the business of money transfer runs on numbers. But as technology pushes societies and economies to evolve, we're challenged to incorporate these new sciences and capabilities into our business model.
Through the years we have seen the remittances industry expand from money orders and the first credit processing systems to online money transfers and apps that make it possible to send money across the world with just a few swipes and clicks. As consumers' needs change we must also adapt to keep up with the pace of the ever-evolving digital world.
At MoneyGram, we're going through our own digital transformation to improve our strategic business model and think differently about how we interact with customers and most importantly, put them at the center of everything we do. In today's day and age, that begins with digital technologies and capabilities.
Last month we announced a strategic partnership with Ripple – a venture that we believe brings a really interesting capability to our service and allows us to evolve our operations to take advantage of cutting edge, proven technologies with a respected partner. Our global settlement engine is one of the big keys to our success, and it's all about, "How do we get those payments to our customers, when and where they need to be, as quickly and securely as possible?".
The development of DLT (distributed ledger technology) and the capabilities of digital data to securely and accurately store and transfer data opens our industry to a very compelling set of opportunities. Blockchain, which underlies DLT, is a record-keeping technology that stores digital information transparently in a public database and eliminates much of the security risk associated with financial transactions.
What you can do with blockchain technology like Ripple's xRapid platform is move money for settlements in real-time using XRP to reduce the need for liquidity in markets and more dynamically match up your funding needs with the payment flows. It's not going to affect the customer's experience, but for us, it has the potential to increase the efficiency with which we can move money across borders. All that is to say – integrating this technology into our system simplifies our process, which in turn benefits our customers.
But our business is unique among the many emerging digital money transfer options because we continue to put a priority on one of our most important customers – and one that is often overlooked – the nearly two billion unbanked and underbanked people living and moving around the world. To keep up with the global scale of our business, we continue to seek out new agent partners, both digital and with physical retail locations, to meet the virtual and cash-in-hand needs of those without access to banks or advanced technology. Just in the last month we have signed contracts with a new partner in Mexico, offering money transfer services in 338 branches in over 200 localities in 30 states, and in South Korea, with a virtual agent with 45 million local and 2 million foreign active online populations.
At the end of the day, our mission remains the same: to bring people closer through access to money that helps them live, work and thrive wherever in the world they may be. How we approach that mission and bring it to life will continue to evolve with the times through new technology, partnerships and products that make our company and services better suited to serving our customers.
I invite you to follow our blog for updates from our company and employees as we continue our digital transformation. Share with your communities and keep the conversations going on social with #MGIQ, and be sure to follow @MoneyGram and me, @walexholmes on Twitter.