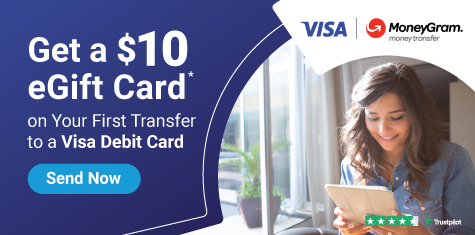 Sending money with MoneyGram online is one of the easiest and most affordable ways to get funds to your loved ones back home!

And now, you can send money to your loved one's eligible Visa Debit card where available, helping them save time and stay safe by sending directly to their bank account and skipping the trip in-store.
But if it's your first time doing so, you may have a few questions about how it works - check out this quick tutorial below to help you get started:
Download the MoneyGram app for free or visit moneygram.com on your desktop.
Click 'Sign Up' to create your MoneyGram online profile.
Click 'Send to Someone New' on our website or find the 'Send Money' window in our app to enter your send amount and receive country.
From there, select 'Debit Card Deposit' as the receive method.
After that, follow the prompts to fill out both you and your receiver's information.
Finally, you'll be shown a summary screen where you can review your money transfer details and enter any promo codes before you submit and send!
We know our services are easy and affordable, but don't just take our word for it! See what other users just like you have to say:
"I love the Visa card to Visa card - no hassle for my mom to pick up money, and I pay less to send." - Zadian, United States

"I love the fact that the money is deposited into the receiver's bank account, the same day, within a couple of hours, when I transfer from a Visa Debit card to another Visa Debit card." - RB, United States

"This is the best money transfer service. Not to mention the app! User-friendly and your loved ones don't need to join a line to pick up the transfer. An added feature with the MoneyGram app is that once your loved ones have a Visa Debit card, money can be sent directly to the card." - Alecia, United States
Ready to get started? Download the MoneyGram app for Apple or Android free or visit moneygram.com on your desktop, laptop, tablet or mobile device.
*Available for your first online international money transfer of $100 or more to an eligible Visa Debit card where available. Offer ends March 31, 2022. See terms and conditions.