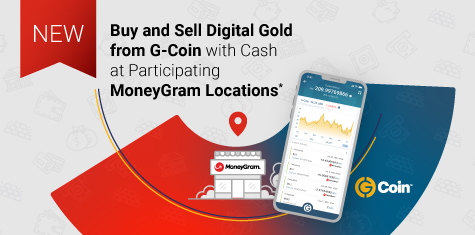 We're so excited to tell you about our new partnership with G-Coin.

G-Coin is digital gold - it's a title of ownership to one gram (or a fraction of one gram) of a gold kilobar, stored in a licensed vault.
This new partnership lets you buy and sell G-Coin with cash, making it easy to enter the world of saving in digital gold. You can buy and sell up to $2500 of G-Coin† per transaction at participating locations.*
To get started, follow the steps below:
Download the G-Coin app at app.gcoin.com.
Follow the prompts to register.
Select the option to Buy or Sell.
Choose 'MoneyGram' as your Pay With option.
Head to your nearest participating MoneyGram location and follow the instructions sent over email to finish the transaction.

Find a MoneyGram location to buy G-Coin: https://locations.gcoin.com/moneygram/us
Download the G-Coin app: app.gcoin.com

†Limit is $999 per day at participating locations in Arizona and Oklahoma.
*Available in 31 states and D.C.