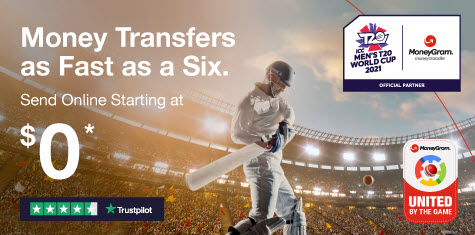 Just for you: online money transfers as fast as a six.
At MoneyGram, we believe that sports unite fans all over the world, and we want to do the same with our money transfers. That's why MoneyGram is an official sponsor of the 2021 ICC World Cup!
We've made it easy and affordable to send money in-app or on our website with fees starting at just $0.* Send money now without missing a moment of your team on the ICC World Cup!
Send money online now, or download our app to get started.
*A currency exchange rate may apply. MoneyGram makes money from currency exchange.