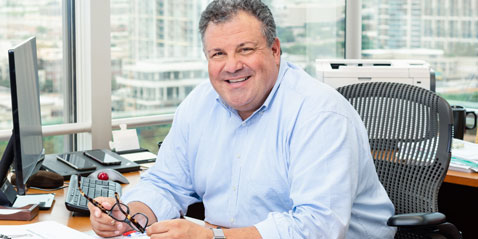 Meet our CCO: Andy Villareal
It's no easy feat to keep pace with the complexities and challenges that come with leading global compliance efforts in the remittance industry. But fueled by a passion for consumer protection, it's exactly what MoneyGram Chief Compliance Officer Andy Villareal does. And quite successfully.
Along with his team, Andy has saved thousands of MoneyGram customers from nefarious fraud efforts, returning millions of dollars to them that were earmarked for criminal activity if not for diligent oversight.
We took a few moments to chat with Andy and learn more about his dedication to compliance, how tech innovation impacts strategy – and a tasty hobby he indulges in.
Why are you so passionate about compliance?
For me, being a compliance officer is the perfect blend of legal knowledge and problem-solving skills.
I find helping companies understand the laws that apply to them and how they can comply with those laws and still make a profit very rewarding. It also calls for the courage to make risk-based decisions, people skills so employees are willing to share when things are not working and a willingness to tackle some of the more difficult issues in the financial services industry.
As far as MoneyGram, I love my job because it not only presents all the challenges and rewards mentioned before, but it also allows me to help consumers and society as a whole.
Fraudsters target the best people in society; for example, those who want to take care of their families, desire meaningful relationships and those who want to help our most needy. If we allow them to become victims, society as a whole is harmed. These people and those they interact with will become hesitant to help others because of scam risks.
How do you envision emerging tech innovation influencing MoneyGram compliance efforts and strategy?
Technology plays a major role in our compliance program. Having and properly using the right systems is the only way to operate a robust compliance program at a financial services company. The most critical part of this is embracing newly invented technology.
Currently, MoneyGram uses Robotic Process Automation and Artificial Intelligence to maximize the effectiveness of our compliance controls. We are also looking at the best-use cases for biometrics to provide our customers with an excellent experience while still reducing risks to the appropriate levels.
What is the biggest challenge for you as Chief Compliance Officer?
Overall, one of the biggest challenges financial service industry CCOs face is what I like to call "regulatory fatigue."
Global financial services compliance teams are under tremendous pressure to be knowledgeable about global laws and regulations, intricately understand company products and services and design processes and controls to ensure the company operates as required by all those laws and regulations. All with the knowledge that if they get it wrong, the company may face huge fines.
Exasperating the problem is that regulators around the world constantly raise their expectations, which makes keeping up with the new standards an exhausting undertaking. Keeping your employees from calling it quits considering these pressures is a challenge every CCO faces daily.
Customer protection is a tenant of your calling. What is your personal message to our customers?
MoneyGram constantly evolves to help protect you in ways that no other company has had the courage to implement, because we want to protect you, your family and society as a whole.
Through diligent compliance efforts, MoneyGram has prevented millions of dollars from being stolen from our customers – but this is only part of the solution. Until companies in the money transfer industry unite to implement similar controls – like requiring consumers to show identification documents before sending or receiving any transaction – fraudsters will simply shift their efforts from one company to any others that do not have these protective protocols in place.
What is your greatest source of pride regarding the emphasis MoneyGram places on compliance? In other words, what is a "win" you'd like to share?
Our success in lowering fraud over the last three years has been an incredible accomplishment. The fact that we have been able to get fraud to its lowest levels in seven years is a testament to the hard work and dedication of everyone at MoneyGram. It also reflects the courage of the Executive Leadership Team to make necessary, but not easy or popular decisions regarding compliance controls.
What's next for the future of remittance industry compliance?
I believe more and more companies will embrace taking stronger action and implementing more substantial controls to protect customers. I think this will be partly forced upon the companies by regulators and some will be the result of peer pressure to meet the high standard being set by MoneyGram.
You described your years spent here at MoneyGram as complicated, rewarding and satisfying. When you're not at work, how do you spend your downtime?
Although I am an avid golfer, love to read and enjoy watching movies, my true passion is cooking.
Learn more about the MoneyGram "culture of compliance," our work with global law enforcement, how we empower our global agents to aid in fraud prevention and more here.