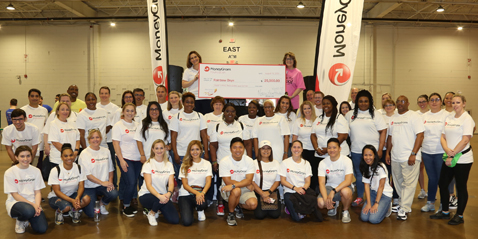 From Dallas, to Minneapolis, to Warsaw – MoneyGram employees are rolling up their sleeves and giving their time and energy to support nonprofit and nongovernmental organizations with the MoneyGram Foundation. The end of summer means Back to School time, and what better way to help local communities than by dedicating time and resources to ensure children are prepared to start the new school year?
On July 27th, the Minneapolis office kicked off a summer wave of volunteerism by coming out in force to support the Simon Says Give – High Five for Supplies event for the second year at the Mall of America. Chief Revenue Officer and MoneyGram Foundation Board Member Grant Lines was on hand to present a check to Simon Says Give as well as help with volunteer efforts.
Not only did colleagues dedicate a full Saturday to stuffing backpacks for children in need, a team of employees led by Bob Walsh, Head of Revenue Infrastructure and Technology, personally delivered 300 backpacks to a grateful organization the following week. "It was a humbling experience to personally witness the gratitude of the organizations that are doing such great work in our community."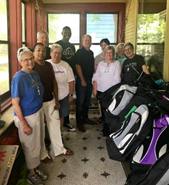 On August 14th, the Dallas and Frisco offices came together to volunteer at the Rainbow Days' Back-to-School Celebration, serving as "Buddies" for children residing in homeless shelters. Volunteers met children as they arrived and served as their hosts for the day, helping them select new clothes and cheering them on as they played carnival games. The MoneyGram Foundation sponsored the event this year, with grant funds going toward the purchase of hundreds of uniforms, backpacks and school supplies for homeless and housing-insecure children.
This is the second year the MoneyGram Foundation has sponsored these events and we are so grateful to actively participate in such special days. We all loved helping prepare these children for the upcoming school year and get them excited about learning!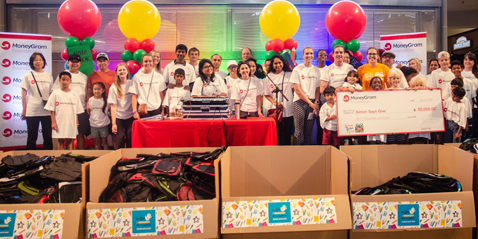 The momentum will continue into the Fall, when Warsaw employees will be volunteering to help Warsaw children with Fundacja Dobrych Inicjatyw (Good Initiatives Foundation) through a grant from the MoneyGram Foundation. Additionally, the Warsaw office will be "digging in" – literally – as they come together to build a STEM-focused playground for a local preschool during Charity Week in early October. The STEM Playground Project is funded through a MoneyGram Foundation grant to Fundacja Rozwoju Dzieci (Child Development Foundation).
Our goal is to continue to make a global impact by pairing the hearts and hands of our employees with financial support from the MoneyGram Foundation to reach children in our global communities. The Foundation would love to hear your recommendations for education-focused nonprofits and nongovernmental organizations that could provide a volunteer opportunity for our offices around the world – please send any ideas to mgfoundation@moneygram.com. Together, let's make a difference!