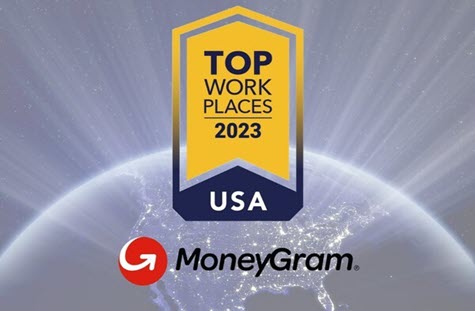 MoneyGram has been named a recipient of the 2023 Top Workplaces USA award. This honor is based entirely on employee feedback as part of Top Workplaces, the leading employer recognition program in the United States, and it marks the second consecutive year that MoneyGram has received the award.


"We are thrilled to again receive the Top Workplaces USA award which stems directly from employee feedback. This recognition is especially meaningful as it signifies that - while MoneyGram has reinvented itself into a global digital fintech - our team remains focused, engaged and aligned to our corporate strategy and trajectory," said Alex Holmes, MoneyGram Chairman and CEO.

In addition to receiving the 2022 Top Workplaces USA award last year, MoneyGram received awards in Work-Life Flexibility, Employee Well-Being, and Compensation & Benefits. The 2023 category awards will be awarded later this year. In November of 2022, MoneyGram was also recognized as one of the Top 100 Places to Work and Top 25 Places to Work out of large companies in Dallas by The Dallas Morning News.