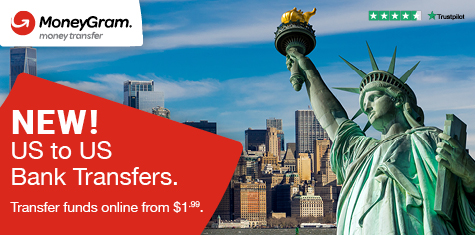 Starting now, US consumers can send money transfers directly to account holders at any bank in the United States using MoneyGram.com — with low fees starting at just $1.99.
Just go online to make your transfer using the "Direct to Bank Account" option. Here's how:
Register or log in
Enter your information so that we can verify your identity.
Select a receiver or send money to someone new
Tell us who you are sending to, along with their account type, bank routing number, account number and the amount you'd like to send.
Choose how to pay and send
You can either pay with your credit1 or debit card, or with cash at a MoneyGram location.
Never send money to someone you don't know.
It's fast and reliable, with online tools to track your transfers.
1Card issuer cash advance fee and associated interest charges may apply.