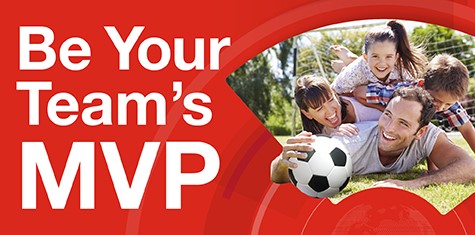 With everything you do for your family, you make the winning difference back home. Now, you can win the match that matters most when you send money transfers online to your loved ones for $0 fees* with promo code QATAR2022, on sends from the U.S. and Canada.
When you send with us, you can have peace of mind knowing your money transfer is going to the right place. With 80+ years of experience in sending money, our transfers are reliable whether it's an emergency or celebrating the big win.
Choose from our great online transfer options, like our free money transfers app or send money transfers online from the MoneyGram website. Plus, it's available anywhere you are, 24/7.
Send international money transfers back to the ones who mean the most to you directly with wire transfers to bank accounts, online money transfers to mobile wallets, or to a Visa Debit card. Of course, you can always send money online or in the app for cash pickup at 430,000+ locations across more than 200 countries and territories.
No matter how you choose to send money globally, you're always your team's everyday superstar.
Send money online to your loved ones today and take advantage of big savings before this offer ends on December 18!
Download the MoneyGram® Money Transfers App to send money with a mobile phone for iOS (Apple App Store) or Android (Google Play).


*Currency exchange rate may apply. MoneyGram makes money from currency exchange. Promo code valid until 12/18/2022 on sends from the U.S. and Canada.