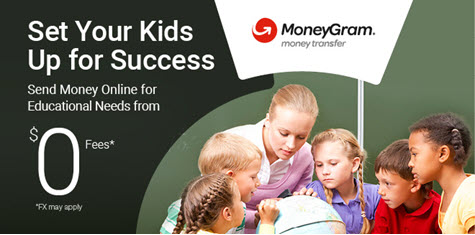 Save time and money when you send wire transfers online to a bank account for the 2021 school year.
While many schools in the US will be open for back-to-school, children in other countries around the globe, (Thailand, Mexico, Dominican Republic, Jamaica, Haiti, Guyana, Trinidad & Tobago, Venezuela, Colombia and Nigeria), will still be learning from home, and it's more important than ever to support your loved ones and set them up for educational success.
Whether it's for school fees, supplies, online learning equipment or anything else your family needs this season, you'll love sending wire transfers online to a bank account because it's fast, convenient, and affordable, with fees from $0.
Learn more about how to send international money transfers online, at a MoneyGram location or with the MoneyGram Online International Money Transfers app for Apple or Android to help support your loved ones for the 2021-2022 school year today.
*A currency exchange rate may apply. MoneyGram makes money from currency exchange.