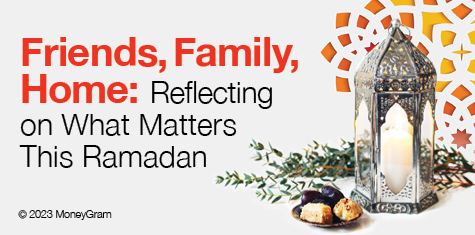 Reflections on What's Most Important This Ramadan
Ramadan is a reminder of how far away your friends and family. Ramadan is an opportunity to reflect on what matters most and how your journey across the world is helping support your friends and family back home.
Here are four ways to celebrate Ramadan, with your loved ones far away.
1. Light some lanterns together.
Pick a special place at your home and your loved one's homes to place a lantern. Place a video call to light the lanterns together, pick a special day during Ramadan or every night at the same time.
2. Give money or time generously.
Whether you pick a cause in your new community or your old community, charity and giving are important aspects of Ramadan. You can give money or time - and if you pick a local cause to give time to, you could celebrate Ramadan with others near you.
3. Teach your friends and neighbors about Ramadan traditions.
Sharing the joy of the holiday with them can be a great way to make new connections. As you prepare iftar, make a little extra to share with your neighbor and explain what and why you're sharing.
4. Send money transfers with MoneyGram.
It's hard to send gifts that are physical items abroad, sending money to your loved ones this Ramadan is easy, convenient, and affordable.
Sending money with the MoneyGram® Money Transfers app and online transfers at www.moneygram.com start at just a $1.99 fee* and come with lots of receive options - including cash pickup at a location, wire transfers to bank accounts, mobile wallets and more. It's simple to get started - just download the MoneyGram® Money Transfers app for Apple phones (iOS) and Android phones or visit the official MoneyGram website today.

*A currency exchange rate may apply. MoneyGram makes money from currency exchange.