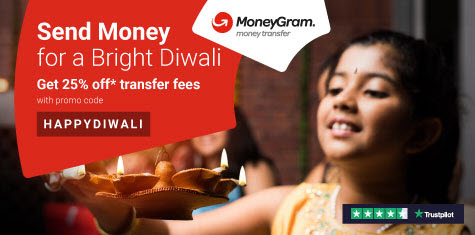 Send money online or in-store to India before November 7.
Diwali is coming up on November 4, and you don't want to miss your chance to send a gift home to celebrate!
From October 25 until November 7, we're offering 25% off the fees on transfers to India with promo code HAPPYDIWALI. Plus, you can send money to your loved one's bank account, debit card or for cash pickup, making it easy and flexible to send money to your family and friends this holiday.
Learn more about how to send international money transfers online, at a MoneyGram® location or with the MoneyGram Online International Money Transfers app for Apple or Android. to India today.
*A currency exchange rate may apply. MoneyGram makes money from currency exchange.