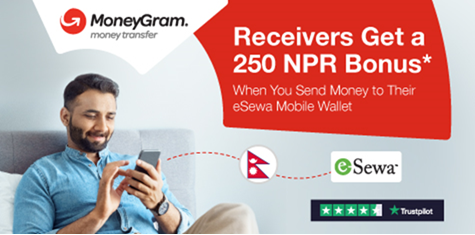 Sending money to a mobile wallet is fast, convenient, and affordable, and now, your loved ones will receive even more money!


From October 1 until December 31, 2021, your family and friends will receive an additional 250 NPR bonus when you send money to their eSewa mobile wallet. Receivers will get this bonus on up to 2 transfers a month and up to a maximum of 6 transfers during the offer period.
Send money transfers online or in our mobile app and select Mobile Wallet as your receive method to take advantage of this limited-time offer today!

*T&Cs apply. Offer valid on maximum 2 transactions in a month and 6 transactions during offer period. MoneyGram is not involved in or liable for payment of bonus. Bonus will be paid directly by eSewa Money Transfer Pvt. Ltd. MoneyGram and the Globe are marks of MoneyGram. All other marks are the property of their respective owners.