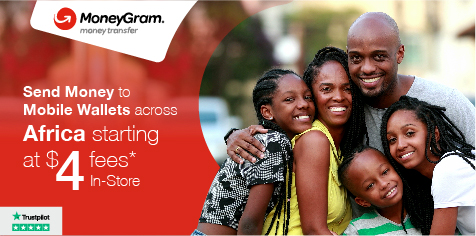 With mobile wallet transfers, your family and friends can skip the line at the store and receive funds directly from the comforts of their home. Money arrives in mobile wallets fast and reliably, giving both you and your loved ones peace of mind. Here's how you can transfer funds to mobile wallets in Africa for $4 fees* today:



Find a location
a. Click here to find a convenient MoneyGram location near you
2. Gather information for the agent visit
a. Bring your I.D.,
b. Bring your receiver's full name on their I.D. and their mobile number with international dial code.
c. Bring the amount you wish to send, plus fees.
3. Complete the transfer
a. Review the details of your transaction and send your money!

Find a MoneyGram location and send money back home today!


*Currency exchange rates may apply. MoneyGram makes money from currency exchange.