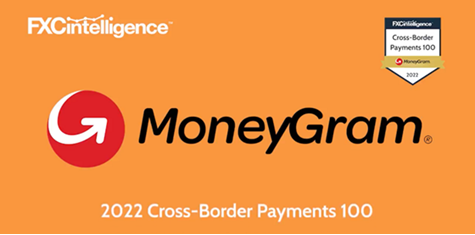 MoneyGram has been recognized on FXC Intelligence's list of Top 100 Cross-Border Payments - an annual report that celebrates companies that have championed innovation in global payments and are positioned to lead the next era of payments excellence.

"MoneyGram is one of the world's biggest money transfers and is playing a key role in defining the future of the remittances sector. This can be seen both in its target to become 50% digital by 2024, and its ongoing moves into cryptocurrency, including its partnerships with Stellar and Coinme. It is a hugely significant player that more than earns its position in the Cross-Border Payments 100," said Daniel Webber, CEO of FXC Intelligence.

Each year, FXC Intelligence tracks over 15,000+ players in the cross-border payments space to determine the Top 100 companies who move the needle. Their sense check is always the following: if any player in this list was no longer operating in this space, would the sector notice? "For MoneyGram, we believe the answer is yes."

Read the full list here.