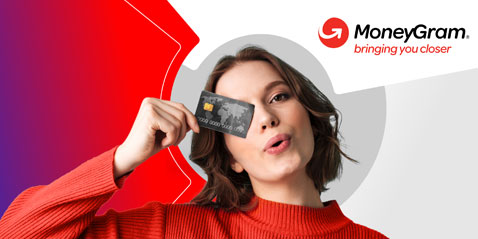 Sending and receiving money should be easy. That's what we strive for at MoneyGram. We're always looking for ways to help customers send money to family and friends quickly, reliably and affordably. We want to create the best possible experience by making things as simple and convenient as possible. And our latest service manages to accomplish all of these things with just the push of a button.
As you may have heard, MoneyGram recently entered into a strategic partnership with Visa to use their Visa Direct real-time push payment platform for our new debit card deposit service. This person-to-person (P2P) money transfer option allows customers in the U.S. to conveniently send money domestically through the MoneyGram app or via the MoneyGram website to other U.S. recipients' eligible Visa-branded debit cards.
The new service works quite similar to how you would pay for something at a store. Visa Direct's push payment platform makes it happen almost instantly. Although instead of paying a retailer, customers now have access to this same resource with the ability to transfer cash to a debit card in real time1 with Visa debit card's security protections. This is a popular option for customers who don't carry cash and are looking to maybe split a bill at a restaurant. Rather than going to a bank or an ATM to withdraw cash, you can simply send money from your bank account to a friend's debit card to pay for your share of the tab. And that's just one example of its many possibilities.
We're optimistic about this partnership since we've seen the vast potential that it has. Last year MoneyGram teamed with Visa to use Visa Direct in what was then its first cross-border use for transactions originating in the U.S. to two priority corridors – Mexico and the Philippines. This latest debit card service allows us to potentially expand on that platform and further transform the way we do business on behalf of unbanked customers, workers in the gig economy and expatriates looking to send money back home.
Although currently available in the U.S. only, we do plan on offering our P2P debit card service to other markets outside of the states in the future. It makes perfect sense. Visa is a world leader in digital payments, has a global reach of 1.67 billion2 Visa debit cards and is available in 200 countries and territories. Combined with our own worldwide network and industry-leading omnichannel services, MoneyGram has the potential to make sending and receiving money even more convenient for those in need of immediate funds and all-inclusive for everyone in the emerging digital economy.
Visit moneygram.com to learn more about how you can send money in minutes3 using this fast, new user-friendly service. And be sure to check back with us on this site and on all of our social media channels as we continue to augment our money transfer products and business partnerships to help customers send money anywhere and any way they want.
1 Actual fund availability depends on receiving financial institution and region. Visa requires fast-funds enabled issuers to make funds available to their recipient cardholders within a maximum of 30 minutes of approving the transaction. Please refer to the Visa Direct team and the Visa Direct Original Credit Transaction Global Implementation Guide for more information.
2 Source: Statista.com September 4, 2019.
3 Timing of funds availability is subject to banking hours, system availability and compliance with regulatory requirements.