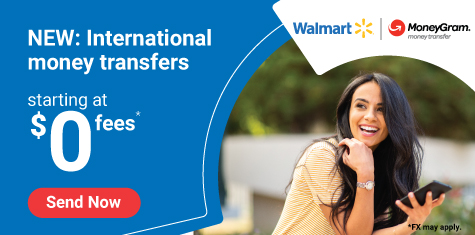 Whatever your reason for sending money to your loved ones back home, Walmart & MoneyGram make it easy & affordable.
Send money to bank accounts, mobile wallets or for cash pickup with low online prices from just $0* with Walmart money transfers powered by MoneyGram. You'll love the convenience of sending money with Walmart & our fast, reliable money transfers.
Don't wait to start sending & saving money - start your transfer with Walmart & MoneyGram today!

*A currency exchange rate may apply. MoneyGram makes money from currency exchange.